Welcome to Oh My Stars Ragdolls
Buckley, Washington Ragdoll Breeder
Ragdoll Kittens For Sale in Washington State
A Little About Us
I'll never forgot the day I first met some Ragdoll cats. I was in my first year of practice as a veterinarian in Sammamish Washington and I had a client bring in two huge, wonderfully fluffy Ragdolls. Mercedes was a blue colorpoint female and Harley was a seal colorpoint male. I asked about the breeder and their personality. I vowed that some day I would have one of these magnificent cats! 3 years later I took another veterinary position in Tacoma. This hospital had a kitten rescue associated with it. I ended up filling my home with 5 kittens over the years. My last one was a beautiful tabby female we named Cheerio. She was my lap kitty, my lovebug! Sadly, I lost her all too early to cancer at the age of 6. I wanted another lap kitty that would love me the same way that Cheerio did! It was then that I decided to get a Ragdoll. I cannot believe I remembered the breeder's name. I contacted her and she was still breeding and she sold me my beloved Cosmo! I fell in love! I waited 20 years for this amazing breed and the wait was truly worth it! My breeder suggested I consider breeding and I loved the idea. Now here I am!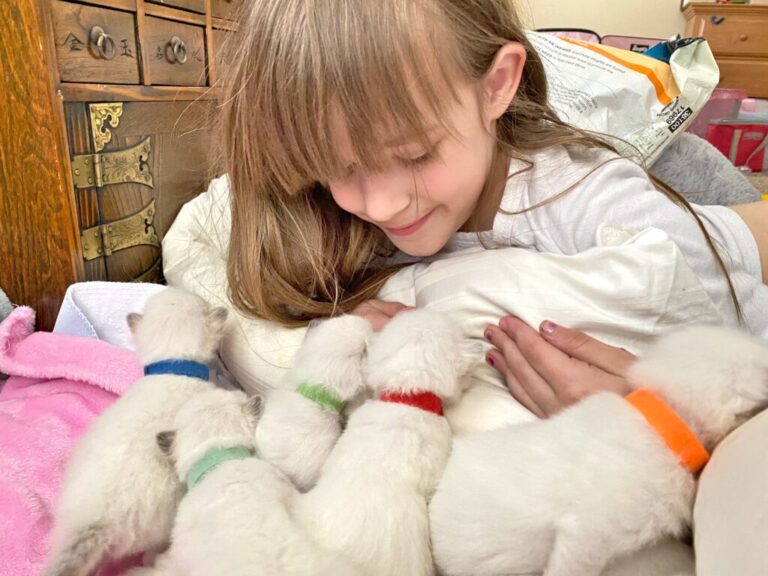 Ragdolls are a relatively new breed and as such, the breed standards need to be protected and preserved. Otherwise, the breed falls apart. We buy a purebred animal because we know what to expect with it. We know what color it should be, what size it will be, what the temperament will be and so forth. Whatever the standards are, it is not our job to question it. If we, as breeders don't like the standards, we should not be breeding that breed. Our job is to continue the standard to the best of our ability. That is what I strive to do. I want to add to and better this amazing breed. I want to share these amazing animals with the world. I am so grateful to be in a position to do so!
We are a small cattery located in Buckley, Washington. Our cats are first and foremost family animals! They live in the house with my husband and I, our two children and our non-Ragdoll rescue cats. The kittens are loved on for hours every day by all of us. They are all very well socialized and happy. As a small animal veterinarian, I make sure they are healthy. We are TICA registered and all of our cats are pedigreed and papered. All of my breeding cats are DNA tested and proven negative for HCM.