Ragdolls arent Pizza
You cant just order one
Our process here for matching you with your perfect kitten is fairly simple.  To reserve a kitten, we start with an application, followed by a short conversation via phone or text.  Lastly we ask for a $500 kitten holding fee.  This fee is non refundable but  transferable if the current litter does not have what you are looking for.  We accept deposits via Venmo or Paypal friends and family.  All of our kittens come with two sets of vaccines, a microchip, a month of free pet insurance, spay/neuter and a 2 year genetic health guarantee.  Your deposit goes towards your total.  Our prices are not the lowest in the region nor are they the highest but we believe the price is fair for what you get.  Our breeding cats are picked specifically as a best representation of the breed in terms of looks and temperament.  Our cats are tested in the show ring and my 20+ years as a small animal veterinarian ensures they are healthy.
We offer kittens based on the order deposits are received.  We try our best to match kittens on requests for particular matings, gender, color, pattern and personality.  Our goal at Oh My Stars Ragdolls is to provide the best life-long relationship between you and your kitten.  To achieve that goal, personality is paramount in matching a kitten.  The gender, color and pattern are but wrappings on the package.  We will try our best to match you with the appropriate kitten based on your lifestyle and family situation and your requests.  If the right fit isn't found in the current litter, you will need to wait until a future litter.
Please understand that the more particular you are in terms of gender, color and pattern, the longer it could take you to find the your kitten.  The most important thing for finding a lifelong happy relationship is personality!
In our cattery, breed standard is critical, both in physicality as well as personality.  We strive to select the best cats in terms of what matches the current breed standard.  Second to that, I like to keep cats that offer the most diversity in terms of color and pattern.  However, the genetics of Ragdoll color and pattern is a complicated and fickle thing.  It is not always possible to produce a given color and pattern.  If you are particular in these things, it may mean waiting for future litters or I may refer you to a colleague that has the genetics you are looking for.
Ragdolls are very social animals!  They love to be with their human family or even other dogs and especially litter mates.  We strongly recommend considering getting 2 or more litter mates at a time whenever feasible.   
Current and Future Planned Breedings
Aurora delivered 2 healthy kittens on November 29th.  I have a male Lilac mitted and a female Chocolate bicolor.  Both kittens will be available late February/early March.  There is room to get on the waitlist for these kittens.
Nebula delivered a litter of 4 healthy babies on January 1st.  There is 1 male that looks to be a Lilac Bicolor, 2 females that look to be Chocolate Mitteds and 1 female that looks to be a Lilac Mitted.  It is a bit early to confirm the colors/patterns.  There is room to get on the waitlist for this litter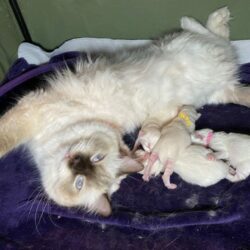 Luna and Oberon are expecting a litter sometime around January 21st.  We can expect Chocolate and Lilacs in Colorpoint, Mitted, Bicolor and Lynx patterns.